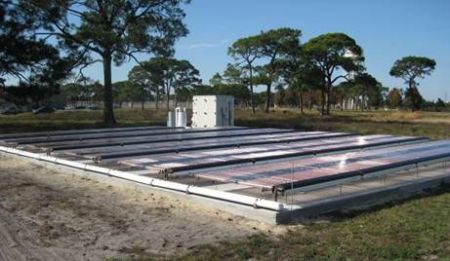 Solar cooling has long been the holy grail of engineers looking to replace electric air conditioners  with a sustainable energy source.  There is a natural "fit" between solar energy and the need for cooling since they both peak during the summer.
Unfortunately, no technology has been able to grow the solar cooling market.  
Absorption chillers are the most common technology applied to solar cooling.  Of the 22 North American solar cooling systems reviewed by Dr. Lucio Mesquita, 17 used single-effect absorption chillers.
Absorption chillers driven by solar hot water often are not an attractive option for a building owner looking to reduce his carbon footprint--they are expensive, require large cooling towers and can be difficult to maintain.  For building owners that must bring large volumes of ventilation air, liquid-desiccant air conditioners can greatly improve the value proposition for installing a solar cooling system because:
the LDAC can save the building owner money by solving an indoor humidity problem or avoiding overcooling/reheat
storing "cooling" as concentrated desiccant is much less expensive and more compact than storing hot water or chilled water
the cooling tower for an LDAC will be about half the size of that needed for a single-effect absorption chiller
the LDAC is simpler than an absorption chiller -- it does not have to maintain a vacuum vessel as does the absorption chiller.
Technical papers presented at SOLAR 2008 by AILR and at ISEC 2006 jointly by AILR and NREL describe the application of the LDAC to solar cooling in more detail. The NREL report entitled "Solar-Powered, Liquid-Desiccant Air Conditioner for Low Electricity Humidity Control" presents the results of a two-year field demonstration of a solar LDAC that stored concentrated calcium chloride.