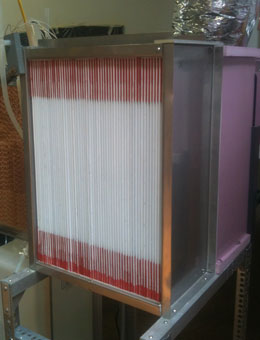 AILR's portfolio of energy technologies all build on our expertise in heat and mass transfer.  Our work on liquid desiccants required novel approaches to working with corrosive salt solutions.  Our unique designs for plastic heat exchangers, some with wicking surfaces, directly followed from this technology need. Technologies that are well past a proof-of-concept stage and are  either market ready or ready for field testing include:
Thermally Driven LDAC
Compressor-Based LDAC (LDDX)
DEVap Cooling Systems
Steam-Generating Solar Collectors
Thermal Distillation and Desalination
Other technologies, including two-stage desiccant regenerators and membrane-based desiccant conditioners are described in this section of our website.